THE STUBBY
STUBBIES!
Canada is a nation in search of an identity. In fact the
government
spends tons of our tax dollars trying to invent one for us by keeping American culture away from us - but it doesn't work. It just delays us from discovering US cultural trends.
Canada is by nature basically a milder version of American culture. But we are 10 or 15 years behind. We imitate most every trend and practice that begins in America, but being so far away from it, and being at least a decade behind and having not generated it ourselves naturally out of our own culture and people, we don't ever quite get it.
We have imitation US sitcoms, imitation US gangsta rap, imitation imitation wrestling. McDonald's and
KFC's
are everywhere making us fat and lethargic.
We are mostly imitators, but we do have some slight differences and some unique talents.
For one thing we know
something
about America, but Americans barely even know we exist. They think Toronto is the capital. Americans know more about Mexico than about their more similar neighbors up north.
When Canada does have something truly unique, we have this awful tendency to get rid of it.
Canadians make great beer, much better than American beer.
Even
so, I'll still see Canadians in Canada buying cases of Bud or Miller and it shocks the Hell out of me! The stuff tastes like rat piss!
Canadian beer used to come in manly brown bottles called "stubbies". Our beer is so superior to US bottled pee that it deserves a handsome and unique container like this. Yet Canadian businesses are so eager to imitate US
busines
s, that they will copy even inferior ideas, like putting beer in long neck
girly
bottles for modern man and his skinny fingers. Real men's hands need to firmly grasp short thick stubbies.
Labatt
50, the most manly and tasty Canadian beer is now in these wimpy pantywaist American style skinny bottles.

Canada also s the quart beer bottle which is extra manly. That's what we drank from when we were 12.


Humpty Dumpty Chips guy ruined by American "tude"



Canada makes the worst pizzas - they make it with white Velveeta cheese and luncheon meat. It sort of
looks
like a pizza but tastes like a
grilled
cheese sandwich with fried bologna on it that they call "pepperoni".
BUT they make up for that with
something
called "Montreal Smoked Meat". This is kinda liked corned beef but much tastier and juicier. If you are in
Toronto
, go to Mel's on
Bloor
street for a great variety of smoked meat sandwiches. In Ottawa, Dunn's is good. Montreal probably has it everywhere since they invented it.
Canadians
al
l have summer homes in the
wilderness
that we call "cottages". There is a whole world of unique culture that happens at cottages. That's where we shed our American ways and revert to barbarism.
There was a TV show about
cottage
life
in the 80s called "Mosquito Lake" starring Canada's funniest man, Mike McDonald.
Unfortunately it was written by bad Canadian writers trying to imitate bad American sitcom writing, instead of having Canadian comedians (like Mike) write the show sincerely in a Canadian way.
Canada grows comedians and then tends to export m
ost
of them to the US. Those of us who don't play hockey in the winter, have
nothing
better
to do than hole up in the basement for months, drink from stubbies and make fun of each other. This is a
great
training ground for comedy.
Then when we
grow
up the
Canadian
government which controls and restricts the entertainment business, while trying to force us to be uniquely Canadian, sends many of its most
unique
talents to the US, where the market is much larger and slightly more open. It used to be a lot more open to originality, talent and competition,
until
they deregulated the
entertainment
companies and caused American culture to degenerate into severe blandness, that today is no longer that
different
than
Canada's
media culture - just a Hell of a
lot
more expensive.
Americans think that there is no bacon in Canada, so they invented
something
called "Canadian Bacon" that is chopped ham stuffed in a tube. You can't find this substance in Canada but it' all over the States.
ACTUAL CANADIAN BACON
We do have an extra meat
called
"Back Bacon" or "
Peameal
Bacon" which is super tasty and lethal.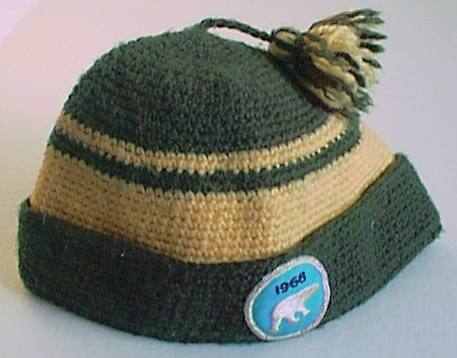 THE TOQUE (pronounced "

tuke

")
Americans always laugh when I say "toque". They don't what it is, but they
stole
it from us. It was invented for function - it's meant to
keep
your head and ears warm in freezing weather.
Americans wear them to be be cool and gangsta in the middle of summer,
just like they wear their pants underneath their underwear.
In Canada, toque styles change every year. The classic toque has a pompom on top.
Of course Canadians have the best Hockey players, but the
Americans
spend zillions of
dollars
to steal them from us.
We have great fighters because the
drinking
age is 12 in Canada, and so drunk kids
always
fight each other on the streets - especially in Quebec, where adult teeth were a rarity when I grew up.
This is all background for the origins of Canadian Style animation.
There are some unique naturally Canadian cultural things, but the Canadian media and the Government cause Canadians in general to abandon them for superficial imitations of American culture. We copy good things and bad things about American trends indiscriminately.
We even have Canadian hip hop and homies now.
The government reacting to US influence
encourages
non-creative people to come up with uniquely
Canadian
symbols and properties and forces them upon us.
We had "
Ookpik
" in the 70s, but I

think
he died an ugly well-deserved death.
In 1967, to celebrate Canada's independence, the government
commissioned
a new flag and
accepted
a design that looks like a bargain basement
corporate
logo designed by a Sheridan College design student.
Canada's image is like a blander imitation of the United States. It's a shame, because there is a ton of natural talent in Canada, but it isn't encouraged honestly or intelligently.
It's the same way for animation. Canada produces some of the best animators in the world, but the general commercial style is a bland imitation of American style...which is an
bland imitation
of classic American cartoon style.
I'll get into more details, bit by bit.
Here are the main 3 ingredients of the Canadian style of animaton.
Those 3 influences, government meddling, plus America's constantly degenerating culture have led to the modern age of Canada's exciting style.